Testbed - DESMI Suzhou
The DESMI Shuzhou testbed facilities are capable of conducting NPD verification as well as performance tests for both ROTAN and Centrifugal pumps.
CENTRIFUGAL PUMP TEST BED
The centrifugal pump testbed has been thoroughly upgraded since 2019 and are capable of NPD NPSHr testing, normal production verification, as well as efficiency verification and can fulfill both ISO9906 1U and ISO9906 2B standards. The test bed is constructed with a double pipeline and can test two different sized pumps simultaneously.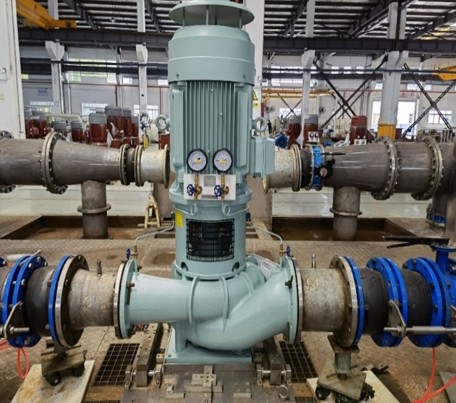 Flow range:

0 - 4600 m3/h

5 class of flow meters with each

accuracy level: ±0.3%

Differential pressure:

0.6 - 15.2 Bar

3 class of pressure transmitter with each

accuracy level: ±0.5%

Electric power:

0 - 600kW

5 sizes of VFD separately applied for

each power range

Max. voltage

440 Volts

N/A

Max. speed:

3600 rpm.

N/A
Advantages:
Two testing line designed for two pumps testing simultaneously;
Equipped with automatic test function;
Can fulfil normal Q-H, efficiency and NPSHr test function;
With close and open loop test function
Can test both for inline and end suction pumps
ROTAN PUMP TEST BED
The ROTAN test bed was established in 2008 and has been upgraded many times during the last 10 years. The test bed can perform NPD and production tests of pressure, temperature, flow, head viscosity, vibration, etc.
| | | |
| --- | --- | --- |
| Flow range: | 0.6 - 300 m3/h | 3 sizes of flow meters; accuracy class of the flowmeters: ±0.5% |
| Differential pressure: | 0 - 16 Bar | 2 sizes of pressure transmitters; accuracy class of pressure transmitters: ±0.5% |
| Electric power: | 0 - 132kW | 2 sizes of VFD separately applied for each power range |
| Max. voltage | 440 Volts | N/A |
| Max. speed: | 1750 rpm. | N/A |