Centrifugal Pumps
DESMI's range of centrifugal pumps represents the latest developments, based on more than 150 years of experience in the pump industry.
The pumps are characterised by high-level efficiency and low NPSH values. DESMI vertical pumps require minimal space and provide easy access for maintenance of the pump's rotating parts.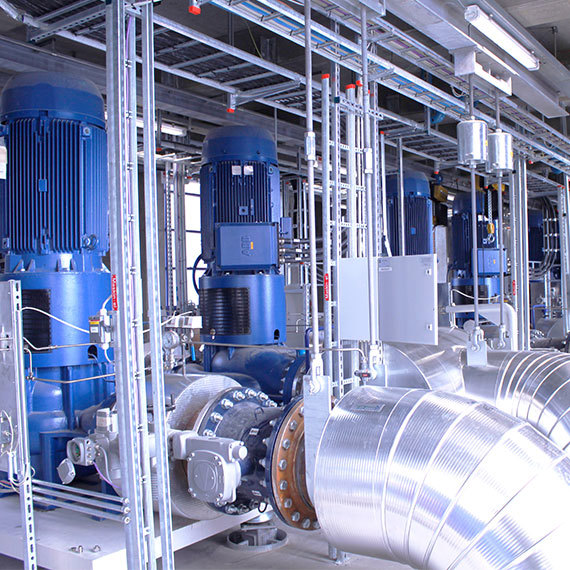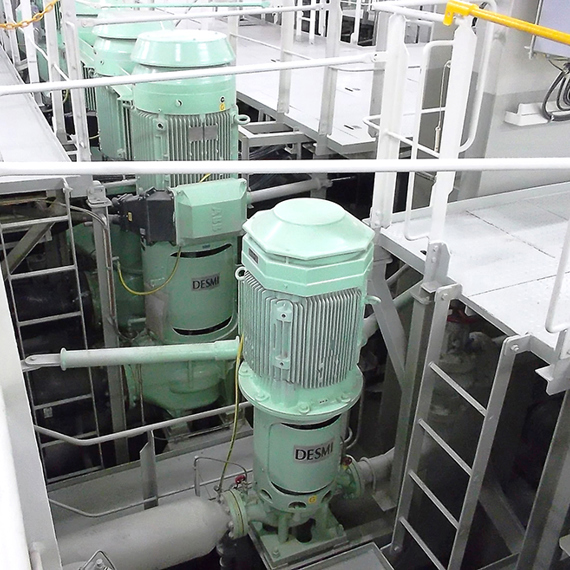 Frequently Asked Questions
What is a centrifugal pump?
The centrifugal pump has its roots back in 1687, but the world's first all-metal centrifugal pump was created in 1849. Our pumps represent the most recent developments in the industry. A centrifugal pump is a type of pump which is used to move fluids, typically through the use of a rotating impeller inside the pump. The impeller can be closed, semi-open or open, depending on whether or not there are particles in the fluid. Once the fluid enters the pump, it is transported radially into a diffuser or a volute chamber, from where it exits the pump.
What is the difference between the many types of centrifugal pumps?
There are many different impeller designs in DESMI centrifugal pumps – i.e.:
Single Suction – This impeller allows liquid to enter the vanes from one side.
Double Suction – This impeller allows liquid to enter from both sides of the vanes – i.e. actually a double suction pump is two pumps mounted and parallelly integrated into one pump casing. Hence a double suction pump normally has lower NPSH-r (i.e. better suction ability) than a single-suction pump for same speed and capacity.
Semi-open – This impeller only has a back wall supporting the impeller vanes. Semi-open impellers are usually used with liquids that have solids. The efficiency is reduced compared to a closed impeller, but the ability to pass solids is required in some applications. For instance, DESMI use semi-open impellers in the SA and NSA self-priming pump series.
Closed Impeller – The mostly used impeller in single and double suction pumps. Closed impellers are the most efficient design. These types of impellers are normally used for clean or lightly polluted liquids.
What needs does a centrifugal pump seek to cover?
Centrifugal pumps are among the most common types of pumps in the world – and for a reason. Centrifugal pumps are used in a wide array of applications, like pumping everything from oils to solvents, water, and acids or bases and much more. An example could be industry water circulation or district heating, where centrifugal pumps are a key instrument. Basically, in cases where there is a need for pumping water or fluids with similar viscosity as water, a centrifugal pump in the answer.
How is DESMI working to provide the best centrifugal pumps on the market?
DESMI's dedication to constantly improve our existing program and also develop new concepts has tailored more than 100 types of pump combinations and designs, guaranteeing that DESMI can always provide the right pump solutions for our customers.
How do DESMI's centrifugal pumps differ from those of competitors?
DESMI pump solutions are well known for their high performance and efficiencies as well as trouble-free operation. A DESMI pump ensures you a reliable installation with minimum downtime. Many DESMI pumps are available in several mechanical designs to suit the local applications and service space limitations.
Do DESMI's centrifugal pumps have any certifications?
All DESMI products are developed, manufactured and marketed in accordance with international standards and our ISO 9001:2015 quality control system. All DESMI pumps can be supplied in accordance with the requirements from all leading marine classification societies. Read more about our certificates and approvals here.