A Smooth District Cooling Operation
In Dubai, Emicool is a top tier district cooling service provider and on their district cooling plants many DESMI centrifugal pumps are installed. The pumps run smoothly and in Emicool's own words, the cooperation is described as reliable.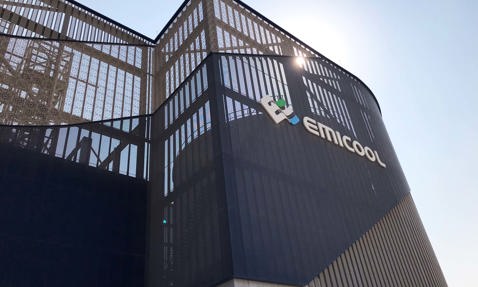 Walking around the Dubai Investment Park you cannot miss the DESMI DSL centrifugal pumps which supplies the chilled water services to adjacent DIP area. As Emicool states they are quite happy with the recent retrofit installation of primary and secondary chilled water and condenser pumps, and these pumps are running smoothly, reliable and perfect selection for the job. Emicool has accomplished the installation and service maintenance themselves and from the very beginning they have been satisfied with the installation as everything was easy and simple.
"We have never faced any issues. The pumps are perfect for the job".
For Emicool's district cooling plant, it is crucial that the installed pumps can run for years and are easy to maintain – for that the DESMI pumps are a perfect match, as very little maintenance is needed. Service engineers at Emicool, handling the daily operation and maintenance & service, are very happy as the overhaul and service in general is easy to handle. Not far from Dubai Investment Park, we have the EXPO 2020 site where another one of Emicool's District cooling plants is situated, and it is impressive. The 15,000 TR plant serves the areas of EXPO Metro station, Conference and Exhibition Centre, Dubai South Mall and EXPO Village residential buildings. All DESMI centrifugal pumps delivered for process needs are vertical pumps. 
Vertical pumps don't take up as much space as horizontal pumps and that was an important factor for Emicool, at the same time, priority had to be made against the most optimum load, and for that DESMI pumps were once again a perfect match.
Emicool was established in 2003 and the company is rapidly emerging as a strategic player among toptier district cooling service providers in the region. Dubai Investments PJSC ('DIC'), 50% shareholder of Emicool, is a well-diversified Group with over 35 subsidiaries spanning across diverse sectors and Actis LLP, holds the remaining 50% shares and is a leading global investor in sustainable infrastructure. The process pumps at their EXPO2020 District Cooling Plant are of vertical design for lower maintenance costs and are equipped with VFDs for optimum energy saving and efficiency.
Specifications of DESMI DSL pumps installed at
the Emicool plants:
DSL 400-498/A-G-I Primary pump – 250 kW
DSL 350-460/A-G-I Secondary pump – 500 kW
DSL 500-515C/A-G Condenser pump – 400 kW