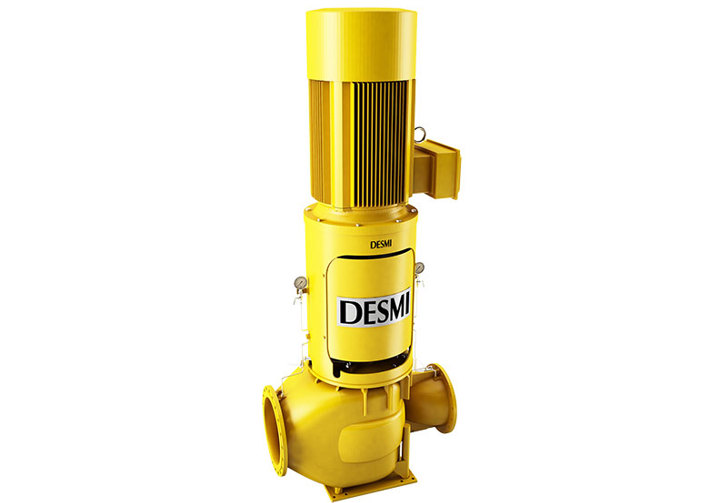 The in-line DSL double suction centrifugal pump
Up to 6200 m³/h (27300 US gpm)
The DSL pumps are single-stage, double-suction, vertical, centrifugal pumps. The design of the suction side provides for a perfect flow, and the inlet is placed in line with the outlet.
Applications
District heating/cooling
Seawater
Water transport or circulation
Cooling towers distribution
Chiller distribution
Scrubber (flue gas cleaning).
Ballast and cooling water pumping in the marine industry are also among the many tasks that the DSL pumps solve to perfection. 
Technical Product Specifications
The pump is designed for the high flow capacities up to 4000 m³/h (17,500 US GPM9. Manufacturing can be vertical in-line, & single-stage, radially split, double suction centrifugal pump with connecting flanges according to international standards. Installation without alignment is required. Vertical design especially is recommended where small overall ground floor is available. The design of the suction side provides for a perfect flow, and the inlet is placed in line with the outlet.
The design shall incorporate advanced double-suction, closed impeller with double-curved blades, with a helical pump casing in one casting - resulting in high efficiency and low NPSH-values.

The pump must be designed for mounting with electric motors having different international flange dimensions acc. to DIN, ANSI or JIS. The pump casings shall be made in ductile cast iron GGG40 EN1561-GJL-400/DIN1693 or NiAlBz EN1982 CC333G/DIN17656 for seawater applications.

The pump casing shall be equipped with a NiAlBz EN1982 CC333G/DIN17656 replaceable sealing ring. Material of the shaft shall always be of high quality duplex stainless steel AISI329/1.4460. The pumps shall be fitted with bearings and mechanical shaft seal at both top and bottom. This gives a robust construction, designed for trouble-free continuous duty.
The impeller shall be made in NiAlBz EN1982 CC333G/DIN17656 (as standard) or duplex stainless steel AISI329/1.4460 both with double-curved blades to ensure low NPSH-values and high efficiency. Shaft material shall be of duplex stainless steel AISI329/1.4460 with a single acting, mechanical shaft seal, which seals off the liquid cavity at the motor shaft.

The pump needs to be equipped with a spacer coupling, which is a combined distance and flexible coupling between drive unit and electric motor. This makes it possible to remove the complete bearing housing with shaft, bearings, shaft seal and impeller – without dismantling the motor or pump from the piping. This represent significant advantages to the end user, who with this pump solution secures his installation trouble free maintenance with minimum down time.

For added efficiency the internal pump casing and impeller can be coated for reduction of friction and thus increase in energy efficiency.

As extra equipment the pump may be mounted with a priming pump of the water ring type, complete with filter and feed water tank, or it may be delivered with an ejector pump.
Nominal diameter (DN)
150 to 500
Flow rate

50 Hz - Up to 6200 m³/h (27300 US gpm)

60 Hz - Up to 7400 m³/h (32600 US gpm)

Head
Up to 140 m (460 ft)
Pressure
Up to 25 bar (360 psi)
Temperature
Up to 150°C (284°F)
Motor
Standard and EX motors
VFD
Bulkhead/Wall-mounted
ATEX approved
Yes