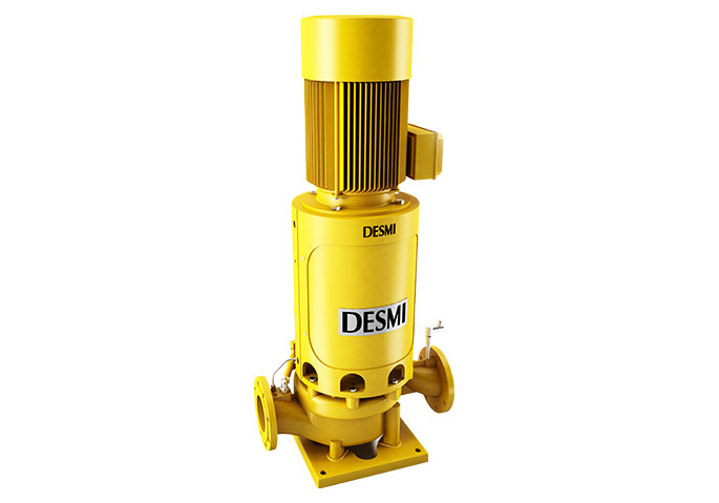 Vertical In-line Centrifugal Pump
Up to 1800 m³/h (7900 US gpm)
The NSL range of pumps represents high efficiency, low NPSH values, easy to install and low maintenance. The NSL series is widely used within different applications and markets.
Applications
Within the Marine industry the pumps are suitable as:
Fresh and seawater cooling pumps
Bilge and ballast pumps
Fire-fighting
General service pumps
Transport of slightly aggressive liquids with low viscosity such
as diesel and lubricating oils.
Within Industrial and utility applications the pumps are suitable for:
Industry water circulation
Cooling tower distribution
Diesel transfer
District heating
District cooling
Within Aquaculture industry the pumps are suitable as:
Freshwater
Water with additives
Seawater
Oils up to 500 cSt
RAS Applications:
Oxygen Control
Intake Water Pumps
Cooling/Heating Pumps
The DESMI NSL pump meets the requirements for:
High efficiency
Low NPSH values
Easy installation/service
Specific materials
Compact design
Standardized to modular design
Outstanding hydraulic design performance
Spacer-coupling options for easy maintenance
Robust shaft design
High efficiency impeller with low NPSH values
Self-priming ability with a separate built-on priming pump
Technical Product Specifications
The design of the NSLV-R/NSLH-R pumps is for medium/high flow capacities up to 6,200 m³/h (27,300 US GPM) & medium head up to 200mLC. The pump may be configured as vertical or horizontally. Both versions are radially split, single stage centrifugal pumps with connecting flanges according to international standards. The design of the pump includes mounting with electric motors having different international flange dimensions.

Materials for pump casings can be grey cast iron (GG20) or ductile cast iron GGG40 EN1561-GJS-400 for fresh water. GGG40 pumps can manage working pressures up to 25 bar (i.e. 37.5 bar test pressure). For seawater applications, the pump construction of the casing may be NiAlBz EN1982 CC333G or Super Duplex 1.4410 (~SAF 2507).

The pump casing is equipped with a NiAlBz or Super Duplex replaceable sealing ring. Material of the shaft is high quality duplex stainless steel AISI329/1.4460 or Super Duplex.
The pump is fitted with dynamically balanced impellers acc. to ISO21940/1-2019G 6.3 (G2.5 or G1.0 are optional) that incorporates advanced double-curved blades to ensure low NPSHr values and high efficiency resulting in lower energy consumption and therefore lower running costs.
Standard impeller materials are NiAlBz or Super Duplex (e.g. for Scrubber applications).

The pump is fitted with a variable pitch inducer mounted on the pump shaft end in suction port to prevent cavitation bubble development on the impeller blades. With inducer the pump can be operated at a higher speed and/or in lower NPSHa applications than a pump without inducer. The inducer material is stainless steel AISI 316 (~1.4436) as standard.

The mechanical shaft seal is a single acting, mechanical shaft seal. The pump can be used for liquid temperatures up to 250°F/120°C. For liquid temperatures above 250°F/120°C a balanced shaft seal design is used.
| | |
| --- | --- |
| Nominal diameter (DN) | 80 to 350 |
| Flow rate - 50 Hz | Up to 2000m³/h (8800 US gpm) |
| Flow rate - 60 Hz | Up to 2400m³/h (10600 US gpm) |
| Head | Up to 195 m (640 ft) |
| Pressure | Up to 25 bar (360 psi) |
| Temperature | Up to 140°C (284°F) |
| Motor | Standard and EX motors |
| VFD | Direct or Bulkhead/Wall-mounted |
| ATEX approved | Yes |
NSL Centrifugal Pump (Monobloc) - overhaul video
DESMI Overhaul video NSL Centrifugal Pump NSL 200 265 14