Testbed - DESMI India
We can provide performance test certificates for both Centrifugal pumps & Rotan pumps.

However, for Defense orders like Indian Navy we are also performing Endurance tests, Type tests like Tilt test, Submersible tests which will be witnessed by IRS in our premises.
DESMI INDIA's test bed was installed in 2017 by DESMI Automation from Denmark, works with extreme accuracy and a wide variety of testing scenarios – and it is enabling DESMI's customers to tap into a new, expanded set of testing certification services.
CENTRIFUGAL TEST BENCH
Where no other requirements are stated in the customer's order (C-order or other order), the testing of centrifugal pumps complies with ISO 9906 Grade 2B. Testing acc. to ISO 9906 Grade 1B is only done on request from customer or the R&D department

Testing of Flow, Pump Head, and Actual Efficiency.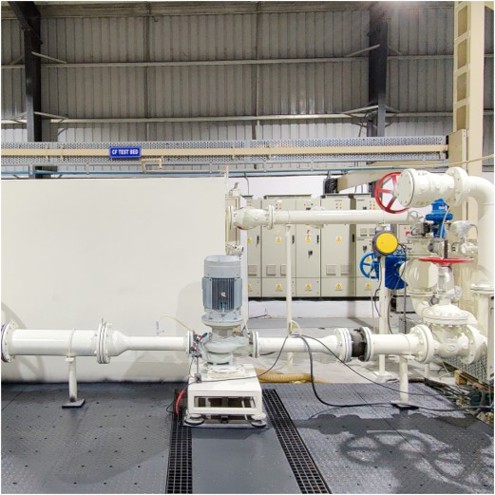 Existing limitations for the CF test bed in Hyderabad (DIPL):
| | |
| --- | --- |
| Max. Flow: | 300 m3/h (3 sizes of flow meters are used for measuring down to the minimum flow with required accuracy) |
| Min. Flow: | 2.4 m3/h (lower flows can, however, be measured if normal measurement accuracy is not required) |
| Max. differential pressure: | 160 mLC (~16 bar) (2 sizes of pressure transmitters are used for measuring down to the minimum pressure with the required accuracy) |
| Min. differential pressure:   | 3 mLC (~0.3 bar… lower values can, however, be measured provided the current flow can be pumped through in the test stand with such low-pressure differences - and if normal measurement accuracy is not required) |
| Max. electric power: | 110 kW (4 sizes of current transformers are used for measuring down to the minimum power with the required accuracy) |
| Min. electric power | 1 kW (lower powers can, however, be measured if normal measuring accuracy is not required) |
| Max. voltage: | 440 Volts. |
| Max. speed: | 3000 rpm. |
ROTAN TEST BENCH
Testing of Flow, Pump Head,  and Actual Efficiency
Existing limitations for the ROTAN test bed in Hyderabad (DIPL):
| | |
| --- | --- |
| Max. Flow: | 150 m3/h (3 sizes of flow meters are used for measuring down to the minimum flow with required accuracy) |
| Min. Flow: | 2.4 m3/h (lower flows can, however, be measured if normal measurement accuracy is not required) |
| Max. differential pressure: | 160 mLC (~16 bar) (2 sizes of pressure transmitters are used for measuring down to the minimum pressure with the required accuracy) |
| Min. differential pressure:   | 3 mLC (~0.3 bar… lower values can, however, be measured provided the current flow can be pumped through in the test stand with such low-pressure differences - and if normal measurement accuracy is not required) |
| Max. electric power: | 90 kW (4 sizes of current transformers are used for measuring down to the minimum power with the required accuracy) |
| Min. electric power | 1 kW (lower powers can, however, be measured if normal measuring accuracy is not required) |
| Max. torque: | 2000 Nm (2 sizes of torque meters are used for measuring down to the minimum torque with the required accuracy) |
| Min. torque: | 3 Nm (lower torques can be measured, however, if normal measuring accuracy is not required) |
| Max. voltage: | 440 Volts. |
| Max. speed: | 6000 rpm. |