Pumps for Free
A cash flow neutral investment concept for Energy Saving Solutions

With the Pumps For Free concept, DESMI offers a unique financing package for shipowners who want to energy optimize their vessels, where the savings are used to pay for the investment. Short pay-back time, typically between 14-18 months.
DESMI offers a wide range of energy-saving products under the Pumps For Free concept, such as:
Replacement of old low efficiency pumps with DESMI highly energy-efficient pumps

Retrofitting energy-saving system, also called OptiSave™, for sea water cooling pumps

Retrofitting energy-saving system for fresh water cooling pumps

Retrofitting energy-saving system for engine room fans

Customized solutions
Installation & Commissioning
We offer "turnkey" solutions where we take care of everything from pre-inspection to commissioning, alternatively a solution where you install and we check and commission.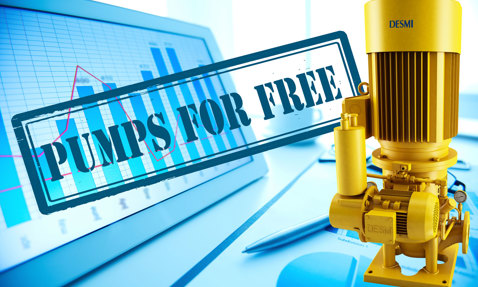 Pumps For Free Concept

The financing schedule is directly linked to the return on investment time / pay-back period, with quarterly payments.
The equipment is quickly put into operation on board the vessel and the first energy savings are received from day one.



The quarterly payments to DESMI will be based on the report from EnergyCheck on board the vessel. This report will include the following:
✔ Pre-inspection report
✔ Operation pattern of vessel (basis for calculation) such as:
Fuel type and fuel cost

Operational hours seagoing / harbour

Operational pattern of existing equipment (pumps, fans etc.)
Payments
The payment schedule is fixed before the project starts. Every quarter a performance report is made based on data readout from the installed equipment.
The Pumps For Free concept offers the customer these benefits:


✔ Cash flow neutral investment in Green Technology
✔ The easy way to get your vessels in accordance with IMO's SEEMP rules
✔ Low interest rates and administration costs
✔ Proven technology with more than +690 OptiSave™ systems on the reference list