August 2023
Transforming Waste Management in India
India, the world's 5th largest economy by nominal GDP and 3rd largest by Purchasing Power Parity, is on an extraordinary journey. With a remarkable growth trajectory, India is poised to become a 5 Trillion economy by 2026, surpassing even the USA, and potentially ranking 2nd by 2075. This tremendous progress is even more astonishing when considering that India was once ranked 139th until around 1991. Furthermore, as the most populous country in the world, with a population of 1.5 Billion, India stands as a beacon of progress and potential on the global stage.
However, as India ascend to greater heights, we recognize that such growth comes with its challenges. Rapid industrial expansion, urbanization, and increased logistics have resulted in a shift of population to commercial centers, leading to stress on resources and a higher demand for land. Consequently, waste generation from both industries and urban areas has reached unprecedented levels. Without proper mitigation processes and designated landfill spaces, waste has found its way into our precious water bodies, contributing to India's unfortunate status as one of the top marine polluters globally.
In response to this urgent environmental crisis, the government took decisive action in 2014, implementing a range of policies aimed at addressing waste disposal and marine litter. Importing quick-fix solutions from foreign countries, India made significant strides in cleaning its water bodies, including rivers, ponds, and lakes managed by municipal corporations responsible for urban local bodies.
Among the vanguard of environmental champions entering this landscape was DESMI. Our mission was to tackle the issue of marine litter head-on. While automatic equipment efficiently cleaned rivers, lakes, and ponds, one crucial aspect remained overlooked – the municipal drains. These drains serve as conduits for vast amounts of litter generated within cities and required a sustainable solution. Enter DESMI's RISE and ENHANCER series, specially designed for the purpose of cleaning municipal drains.
Our innovative equipment, deployed with utmost timeliness, caught the attention of none other than the Principal Scientific Advisor to the Government of India. Soon after, it found its way into the municipal drains of New Delhi, where it has been tirelessly serving the major metropolitan cities of India ever since.
The beauty of DESMI's RISE system lies in its simplicity and state-of-the-art design. Employing a pontoon-based structure, it houses a wire mesh conveyor and a PU conveyor. Once deployed inside the drain, a trash barrier is positioned at the mouth of the conveyor, cleverly forcing the floating trash to be carried onto the wire mesh conveyor by the surface flow of water. The wire mesh conveyor then efficiently transfers the collected trash to the continuous running PU conveyor, which brings it to the ground for proper disposal.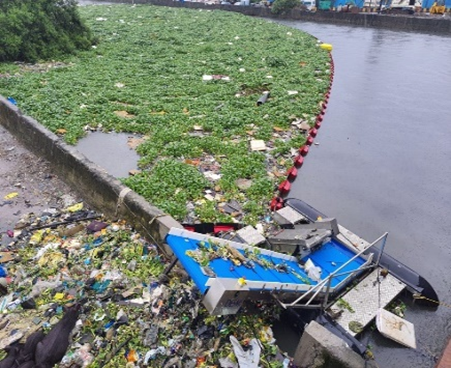 In recognition of the diverse challenges presented by each municipal drain's unique water flow and type of trash, our equipment is constantly evolving and being upgraded to meet these complexities. Every day, each deployed unit successfully collects no less than 1,000 kgs of floating trash, effectively handling a wide variety of marine litter. Thanks to our efforts, we have already prevented over 1000 tons of debris from polluting our precious water bodies.
The success story of the DESMI RISE system is an ongoing saga of progress and innovation. As pioneers in this category, we have successfully launched several models in cities like Mumbai, New Delhi, Hyderabad, Bengaluru, and Kanpur, and we aim to expand our reach to newer territories in due course. Our equipment is fully customizable to suit each customer's specific requirements, and we proudly offer comprehensive operations and maintenance support to our valued clients.
If you are committed to creating a cleaner, more sustainable city and dream of witnessing a "SWACHH BHARAT" – a cleaner India – we invite you to join hands with us and be a part of this transformative movement. Reach out to DESMI today and let us pave the way towards a greener and more prosperous future. Together, we can make a real difference in building a cleaner and more sustainable India for generations to come.