February 2018
DESMI upgrades to future-proofed pump testing capability
Danish-based manufacturer DESMI has supplied pumps for more than a century. When developing pumps, testing finished products for compliance with guaranteed values, or working with refurbished units, it is essential to run reliable, quality testing at a qualified pump testing facility. The capabilities required by such test beds tend to vary – from straightforward, functional stations to complex test facilities that deliver high precision. DESMI's latest test bed, completed at the end of 2017 by DESMI Automation, works with extreme accuracy and a wider variety of testing scenarios – and it is enabling DESMI's customers to tap into a new, expanded set of testing certification services.
Heavy investment

"We've made a considerable investment to upgrade our existing test bed with complete, state-of-the art technology," said André Jelstrup, Production Manager at DESMI. "With eight different test bases, each equipped to handle pumps of varying sizes and types, we've now got far greater flexibility."
Flexibility isn't the only advantage of the new facilities. Just as importantly, the new test bed can be both upgraded and expanded down the line. "This is where the real future-proofing comes in," Jelstrup concludes.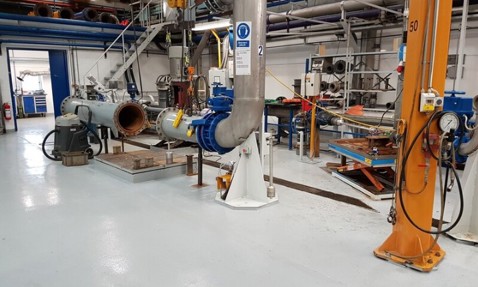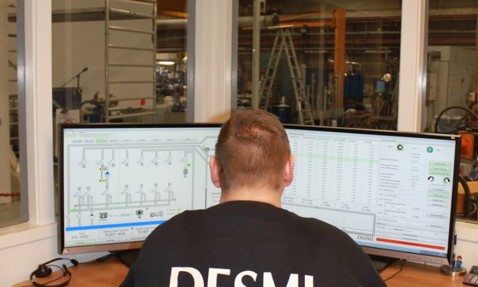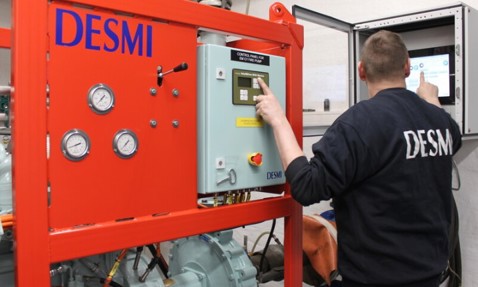 Improved test output
DESMI's upgraded test bed technology is a vast improvement in performance testing. Once a pump is secured on its skid, an auto-cycle fills the pump cylinder with liquid, pushes the air out and automatically tests various points on a pre-determined pump curve. All the while, two viewing monitors provide a continuous and complete readout of the test results. Tolerances can also be accurately measured, providing a significantly larger data set than the previous system. This latter feature can be used to refine designs or catch problems at a much earlier point during testing.
Additionally, the new test bed enables technicians to experiment by up-scaling and down-scaling the power supply, simulating different media viscosities, or changing the number of frequency converters, for example. It also makes it easier to connect customer-provided frequency converters for testing pumps to reflect more accurate operating conditions.
The new test bed facility also contains an additional bay where noise and vibration tests can be performed, expanding DESMI's ability to provide certification services around these issues, as well.
Facility overhaul
The upgrade to the DESMI test bed took place by DESMI's own Automation team over nearly the entire 2017 calendar year. And André Jelstrup is certainly pleased with the result. "It was a great pleasure to execute our plan and be able to roll out the completed facility. 
The new facility features a modern, fully digitalized system with an entirely new power supply setup, and an expanded range of inputs and outputs. Our equipment standards have been raised, and we are delivering even more accurate readings to our customers," he states.
Remote viewing
Looking for ways to move the company's test bed technology even further forward, the DESMI team has been hard at work to deliver remote viewing of pump testing - in real time. While many customers are able to visit the test bed in person, the option to view testing remotely will likely prove to be of huge benefit for customers around the globe. 
"At some point in the future, this will all be live," says André Jelstrup. "One could literally sit in a café in a seaside village - watching and even perhaps asking the operator for particular parameters, to repeat a test, or even to run specific tests. This is the future of test bed technology and we are now positioned to deliver it."
Sustainability upside
The upgrade to a more advanced test bed has even helped the DESMI test bed team to deliver on the company's sustainability agenda by reducing the use of paper. "DESMI test bed staffers used to have to print out all test results in order to read them. Now all results are read, reviewed and archived digitally. 
We can also produce and distribute certification documentation electronically, faster and more efficiently. As things change, the technology must move with it. Our customers rely upon, and insist on us being able to deliver new capabilities," André Jelstrup concludes.