DESMI OptiSave™
Saving Energy Means Longer Operation Time

Saving Energy means Fulfilling new COP21 Requirements for the Military to Reduce CO₂ Emission
What we do:
Operate Seawater Cooling Pumps according to the actual temperature – meaning the colder the seawater temperature, the lower the amount of fuel used.
For increasing the advantages also the Fresh Water Cooling Pumps are controlled.
Engine Room Fan Control. The fans are controlled based on the actual conditions, i.e. pressure at engine room, and not a worst case scenario. All safety issues are taken into consideration.
Change to LED lights is a quick way to save energy. Normally the existing light fixture can be used with new LED bulbs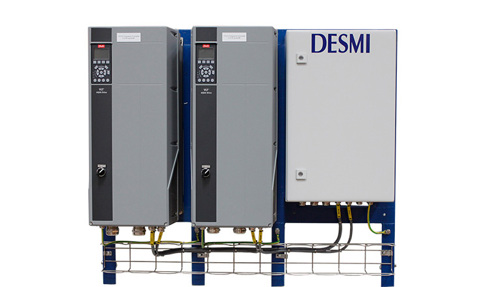 WHAT CAN OPTISAVE™ DO FOR YOU?
Any diesel driven vessel is still only transforming some 30% of the fuel energy into mechanical energy, meaning that some 70% of the fuel is converted into heat, either to the motor parts or to the exhaust.
When designing cooling water systems for engines, the heat energy to be removed from the engines is known, but the actual seawater temperature is unknown, which means that designers are forced to use 34°C / 92°F as seawater temperature. 
Therefore, the system is heavily over-dimensioned when sailing in e.g. Danish and North Atlantic waters.
By adding monitoring of seawater temperature, seawater cooling outlet temperature, and a frequency converter it is possible to adjust the seawater cooling flow to the actual requirement. On top of this saving the change to LED lights, OptiLEDTM, will increase your savings even more.