Land-based Sprinkler System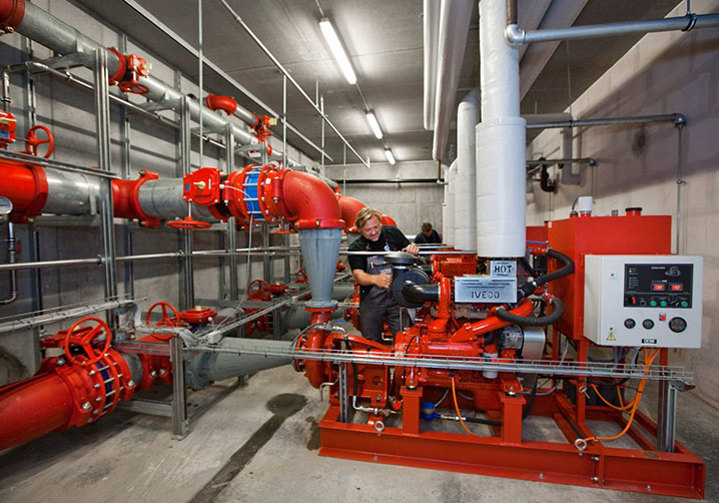 Sprinkler System for Fire Fighting
DESMI offers dimensioning and guidance when complete units for fire protection, including electronic control, are supplied. All solutions are in accordance with national as well as international fire-fighting regulations.
The units can be supplied as a permanent containerized solution or as a transportable unit.
Transportable pump units
The pump and motor come built together in a compact unit that is easy to move. Typically, self-priming pumps are used. The pump can be combined with electric motor, diesel or gasoline engines including battery and fuel tank. Transportable pump systems can be supplied as explosion-proof.
Complete container
The complete sprinkler or fire pump system can be supplied mounted in a container with all internal piping leading through to the container wall ready for assembly with the supply line and pressure pipe.
Stationary sprinkler pumps with electric motor or diesel engine
The complete unit comes on a base plate construction, and as pumps are also designed for diesel operation, you can choose between assembly with electric motor or diesel engine. The pump and motor are built together on the base plate via a flexible coupling.
The base plate is well-dimensioned, accurately levelled and ready for quick and easy assembly on site. The complete unit also contains mounted fuel tank and start batteries.
Electronic control unit
A complete Diesel unit contains an electronic control panel. DESMI is pleased to be involved, either totally or partially, in the design planning of electrical installations that concern sprinkler operation and monitoring.