April 2019
DESMI's Emergency Firefighting Pumps a Navy Favourite
When the UK's Royal Navy realised that the water pumps for firefighting on a number of its vessels were beginning to show signs of deterioration, it decided to look for a durable, robust solution that would stand up to all the rigours of navy activity.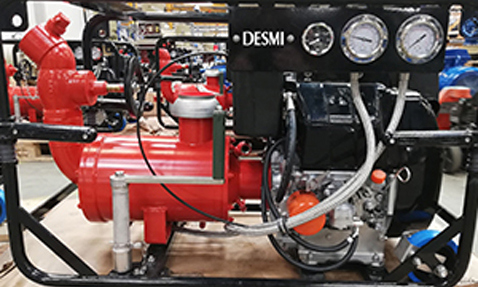 Fire risk is constantly present on board navy vessels, and crew need to know they have the best equipment at hand to quickly contain the flames and minimise damage. Here, the emergency firefighting water pump is an essential element in fire-fighting equipment. It is vital that such pumps are highly effective, while being relatively light and compact for easy mobility and storage. And of course, the crew need to have confidence that the pumps will work exactly as expected, when they're needed.
The Royal Navy first approached DESMI in the early 2000s to help develop a customised pump solution that could be used for its minesweepers – and which could potentially be used on a wider range of vessels, since using the same pump would ease the overall maintenance burden and simplify both training and operations.
Military-grade requirements
The Royal Navy had several specific requirements for its fire-fighting pumps, seeking a relatively light, hand-carried unit that can be stored on deck,  at times in a special enclosure. The pump's weight and size must enable it to be brought to the emergency's location and quickly connected to hoses before pumping sea water. And each pump must be manufactured to a pre-defined capacity and pressure.
DESMI was quick to respond to these and other required features. Christian Wollerup Sørensen, DESMI's Director for Defence and Fuel, explains that the first solution was developed in 18 months, with the first sea trials held in 2005. Since then, DESMI and its distributor have maintained constant contact with the Royal Navy, developing and implementing regular improvements ever since the pumps were first commissioned.
"From the moment we provided the first version to the Royal Navy, our engineers continued to work with the design to make sure it met all the requirements. To date, we have released three major updated versions as well as a number of minor releases.
Rapid action
The current version, Mark 3, weighs around 100 kg and can be carried by four people. It is relatively light considering its power, mainly due to a lightweight diesel engine and the design of its stainless-steel frame. Contributing to the unit's robustness is a special coating, which makes it resistant to wear and seawater corrosion.
Naval-grade pumps usually need features that are unique to this application area, says Hardy Smidt Jensen, Development Engineer at DESMI:
"As a pump suitable for a minesweeper, for example, you need a low magnetic signature. Then there's the inlet and outlet couplings, which are designed with quick couplings that allow fast connection of the hoses. These pumps are also equipped with a spring starter, allowing them to be started without an external power source."
High-performance flow
The portable pump's official name, DESMI SP-D3-2, reflects its super-priming capabilities, impeller diameter and double-stage design. A combined water ring, priming and centrifugal pump, it is equally effective at pumping water up from sea level as it is at creating optimal pressure and flow. The water ring section of the pump allows it to prime very quickly – a significant advantage when extremely fast fire response is demanded.
The SP-D3-2 creates a flow of 40 cubic metres per hour at a pressure of seven bar. Its suction capability is up to seven metres above the sea's surface, easily exceeding the minimum requirement of four metres.
Stationary companion
SP-D3-2  mobile units aren't the only pump solutions that have been specially developed by DESMI for the Royal Navy. Navy vessels also need at least one stationary unit, and DESMI has currently supplied around 45 of these. Such units are located in their own compartment with a fixed suction pipe connected to the ship's main emergency fire system. They are diesel-powered and, at 100 cubic metres per hour, boast somewhat larger capacity.
"These large pumping units have gone through rigorous shock-testing at a test site in Scotland, where they were exposed to an underwater explosion to determine whether they could still operate after such an occurrence," says Hardy Smidt Jensen. "We have invested significantly in developing them, as well as the portable units, to meet the requirements of the Royal Navy, opening the door to use by other navies, too."
Easy to own
Both the portable and stationary DESMI firefighting pumps have NATO stock numbers, simplifying procedures in replacement and spare part ordering. After four years of operation, units are sent to DESMI for maintenance or replacement. Where possible, equipment is refurbished and returned to service. If not, it is replaced by a new unit. This extended service level is an integral part of DESMI's work with customers across a broad range of applications.
"Not only does our equipment live up to rigorous demands in all conditions, but our service, maintenance, and access to support and spares is at a much greater level than if equipment were sourced as an off-the-shelf product," says Christian Wollerup Sørensen. "It's about providing the best possible equipment supported by the best possible service for the lifetime of the equipment and beyond."
Reliable winner
Ministry of Defence Senior Maritime Engineer Mike Sampson, is well satisfied with the DESMI pumps: "These pumps do exactly what they're supposed to," he says. "And the latest version is a highly reliable unit that is not only well suited to emergency firefighting, but which is just as useful for disaster relief tasks, providing a portable water pump that can help to clear flooding or provide fresh water where it's needed."
The success of the pumps has already gained the attention of armed forces and other customers around the world with a similar set of needs. "We have already developed customised versions of the diesel-driven firefighting pump for the offshore sector and other navies around the world," says Christian Wollerup Sørensen.
Christian Wollerup Sørensen
Segment Director, Defence & Fuel Defence & Fuel