August 2023
Introducing DESMI India: Pioneering Denmark's Strategic Vision for an Environmentally Sustainable India
1834: A Legacy of Excellence
DESMI India, born from the strategic vision of its parent company DESMI A/S in Denmark, is dedicated to take part in transforming India into an environmentally sustainable economy. Founded in 1834, DESMI A/S, one of Denmark's oldest companies, specializes in offering high-quality pumps and pumping solutions for diverse markets, including Marine & Offshore, Defence & Fuel, Industry, and utilities. With a strong commitment to sustainability and innovation, DESMI has built a solid reputation for supplying environmentally friendly equipment, such as solutions for oil spills, seaweed, and clean waterways.
Founded in 2014: A Vision Unfolds
DESMI India Private Limited, established in 2014, serves as the embodiment of this strategic vision for the Indian sub-continent, encompassing Bangladesh, Sri Lanka, and the Maldives. Mr. AVSN Murthy, Managing Director DESMI India, played a pivotal role in laying the foundation for DESMI in the Indian market. Initially established as a Liaison Office in Hyderabad, DESMI India swiftly evolved into an assembly and manufacturing center by February 2017, achieving remarkable milestones since its inception.
Embracing a localized approach for different global markets, DESMI India proudly aligns with the 'Self-Reliant India' initiative and wholeheartedly supports the 'Make in India' and 'Atma-Nirbhar Bharat' sentiments. Notably, DESMI India has achieved remarkable success in securing higher market shares in sectors like Commercial Vessels, Industry, Oil Spill Response Equipment, and Defense, primarily with Indian Navy and Coast Guard markets, solidifying its position as a preferred brand in these domains.
Committed to Sustainable Growth
What sets DESMI India apart is its inherent commitment to innovation and sustainability inherited from its parent company in Denmark, renowned for its green initiatives. Striving to combat climate change through rapid modernization, DESMI India has recently deployed new products and technologies for pollution response and water body cleaning, garnering substantial success and becoming a notable case study in the process.
DESMI's dedication to sustainable growth aligns seamlessly with the United Nations' sustainable development goals. Working in collaboration with local authorities and other manufacturers, the company actively contributes to making a positive difference.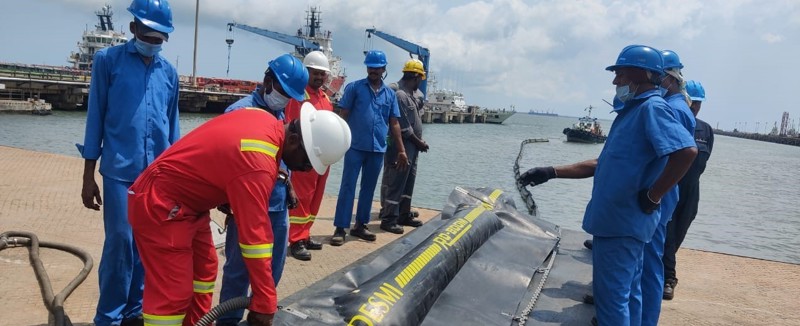 Deploying Success: Pollution Response in Focus
As the sole Original Equipment Manufacturer in India for Oil Spill Response Equipment, DESMI India manufactures and exports its equipment, catering to the needs of 12 major ports across the country. Furthermore, the company proudly stands as the lone OEM to supply pollution response equipment to the Indian Coast Guard, including their Pollution Response Teams across various regions.
DESMI India's clientele extends beyond major ports and Indian Coast Guard, reaching oil handling agencies, Single Point Mooring (SPMs), Shipyards, Shipowners, Contractors, Desalination plants, power plants, and other entities. In combating oil pollution strategically through its projects, DESMI India has significantly impacted society and environmental sustainability in a positive manner.